WilliamsWarn personal home brewery – Return on Investment study
Check this out. http://www.williamswarn.com
You know you want one.
This machine doesn't make ordinary home brew. It makes "cold, perfectly carbonated, clear, professional quality beer in 7 days". Good enough beer to win Gold at the Asian Beer Awards beating 45 full-scale breweries.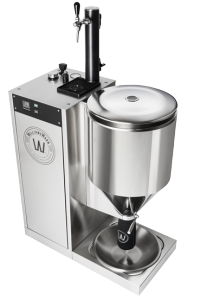 I like cool gadgets. And this is pretty much the coolest gadget I have ever seen.
Business case? Hmm…
Initial investment: $7,202 incl GST for: Machine as pictured $6,630; Bottler $518; Enough 500ml swing-top bottles for 2 brews $55.
Variable costs: $40 per brew ($1.74 per litre) for ingredients, ignoring water and electricity costs.
Comparator: $5 per litre for premium lager (prices vary but lets assume $20 for a doz 33oml bottles)
Now… one brew is 23 litres… at $5 per litre that would cost $115 over the counter… 7,202 + 40x = 115x… carry the one… the WilliamsWarn personal brewery will pay for itself in only 96 brews!
If you're into beer, this thing's a bargain! If you can kill a brew a week, you'll have recouped your capital costs in under two years.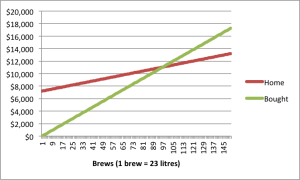 I'm more of a 1-2 bottles a week kind of guy. So thats… 96 brews… 4,416 bottles… 42 years. Damn.
But wait, this isn't about monetary value! This is about coolness. You can't put a dollar value on a gadget that would enhance your life this much.
Sometimes when we use financial analysis without thinking about other ways of valuing, we can miss the point. Just as well there's another way…
Disclosure statement: I don't own a WilliamsWarn personal brewery. I am still working on the business case.
August 2013