The OPM approach to assessing value for money 
This document offers practical guidance for assessing value for money (VfM) in international development programmes. Since 2016 Julian has been working with Oxford Policy Management (OPM) to develop and deploy a robust approach to VfM assessment. The approach combines cutting-edge evaluation practice with concepts from economic evaluation to respond to donor requirements for accountability and good resource allocation, as well as to support reflection, learning, and adaptive management.
Click here to download King and OPM (2018). The OPM approach to assessing value for money: A guide. Oxford: Oxford Policy Management Ltd.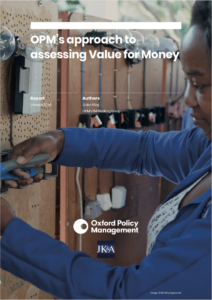 Evaluation: Thinking Beyond Measurement
Evaluation is more than measurement. Good evaluation provides clear answers to important questions, so that action can be taken. Evaluation answers questions about how good something is, and whether it is good enough (Davidson, 2013). Explicit evaluative reasoning gives us the means to provide valid, transparent answers to those questions. The following diagram illustrates one form of evaluative reasoning in practice. (Click on the diagram to expand)

Also available in Portuguese: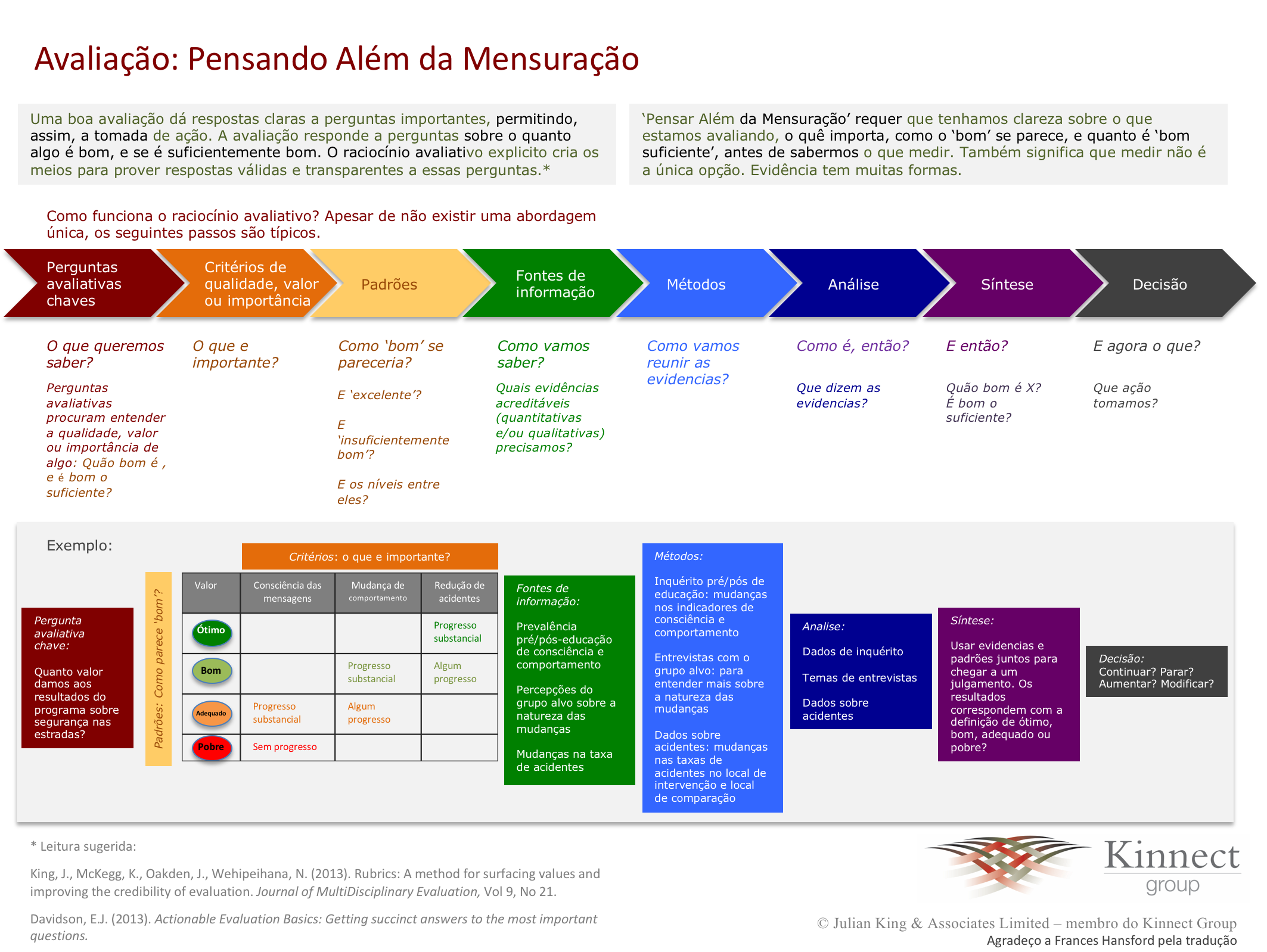 Value for investment e-book
At the core of both economics (the study of how people choose to use resources) and evaluation (the systematic determination of quality or value) is a shared interest in valuing resource use for social betterment. Yet economics and evaluation tend to operate as complementary or competing disciplines rather than being integrated within an overarching logic. Is there a better way? Yes! This e-book proposes an evaluation-specific approach to evaluating value for money in social programs, using explicit evaluative reasoning together with economic methods of evaluation.
This e-book is based on my article in the American Journal of Evaluation: King, J., (2017). Using Economic Methods Evaluatively.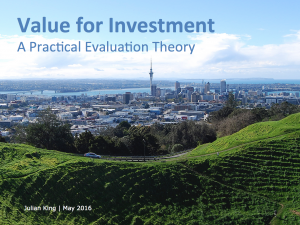 Stakeholder engagement guidance for impact investors
The World Economic Forum brought together a group of individuals and organisations to develop guidance on how impact investors can include the voices of affected stakeholders into their impact investments and organisational activities, and how they can respond to those voices. This document suggests some of the many ways in which the voices of all affected stakeholders can be gathered, and then used to draw lessons, inform decisions, and develop strong relationships with stakeholders. It references existing tools, resources and examples of practice.
Bradford Hill Criteria for causal inference
One of the great challenges in evaluation is determining whether the results we're seeing are because of the program we're evaluating, some other influences out there in the big world, or random chance. I think the Bradford Hill Criteria offer a good checklist to use in evaluation when we have to consider the balance of real-world, messy evidence to make well reasoned judgments about causation.
This e-book is based on a paper presented at the Aotearoa New Zealand Evaluation Association (ANZEA) Conference in 2015.